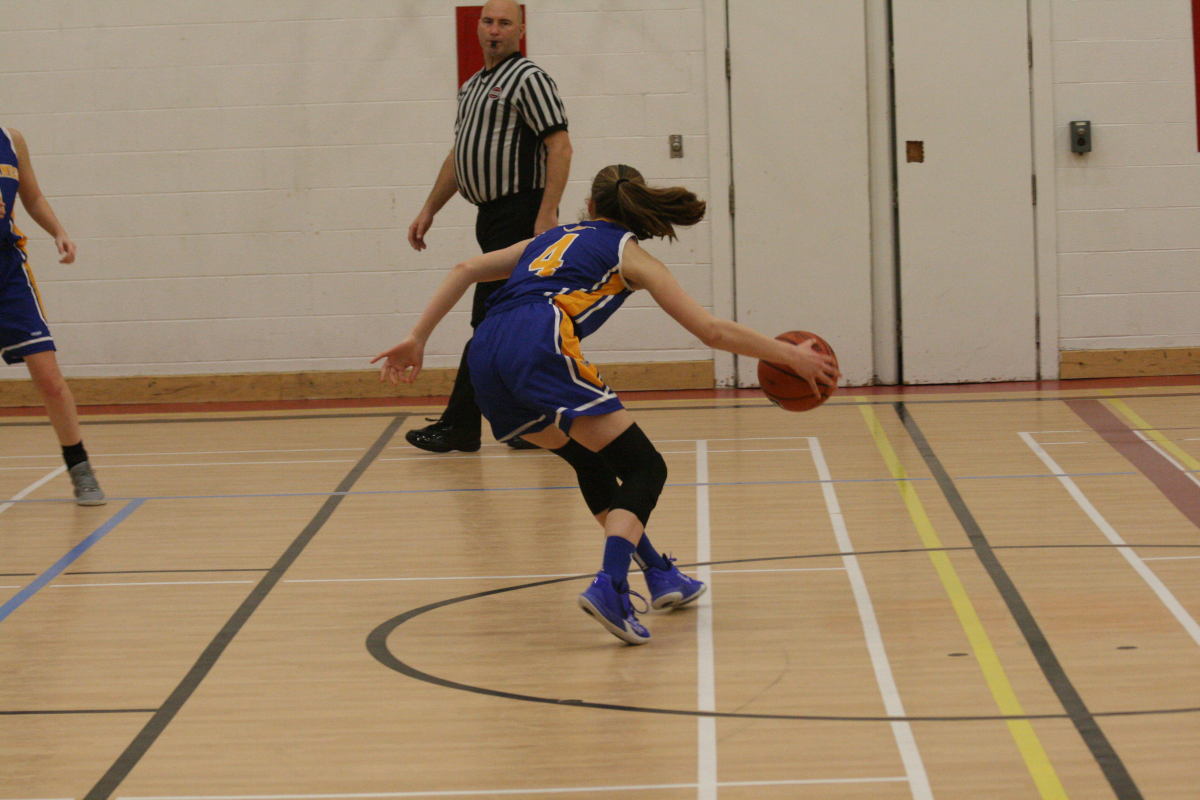 The U19 Women spent the weekend of March 7th at the "AA" Toronto Lords tournament in the second division. The 5th time that the U19 team has been to Lords and never previously won more than two games before.
Playing the host Toronto Lords in the first game on Saturday morning the Hurricanes came out cold and were down 25 to 13 after one quarter. Playing even for the rest of the game until the final three minutes Huntsville could not cut into the lead. A late run cut the deficit to 6 points but could get it no closer only making 15 of 72 field goal attempts during the game. Lords won 44 - 38. Riley Truax (12 points), Gabby Arsenault (10) and Justine McNaughton (6) led the Hurricanes in scoring.
Next up was the Mississauga Knights. Huntsville came out sizzling and never let up beating the Knights 66 - 27 on 42% shooting. Smothering defence supported by the entire team and balanced scored led to a runaway win. Truax (25) lead the Hurricanes with each of Monique Boyko, Jenna Yeo, Piper Long and Kaiya Roberson chipping in 6 each.
Saturday evening at winners of Pool C Transway playing the 2nd place Pool D Hurricanes. Huntsville started a streak game taking the lead early but a back and forth game saw Transway up 37 - 27 mid-way through the fourth quarter. The Hurricanes locked down defensively and finished the game on an 16 to 1 point run to win 43 - 38. Arsenault (14), Truax (8) and Long (7) led the Hurricanes in scoring.
Due to quirk in the format, Huntsville only qualified for the bronze medal game (Transway qualified for the gold medal game against Toronto Lords) against the Lindsay Wildcats. Leading 19 - 8 after one quarter the Hurricanes looked well on their way to a bronze medal but mid-way through the second quarter through the third quarter Huntsville had trouble scoring and trailed heading in the fourth quarter. Again the Hurricanes locked down defensively and finished the game winning 48 - 44. Truax (13), Arsenault (8), Long (7), Morgan Smith (7) and Yeo (6) lead a balanced attack.
Thanks to Lauryn Oliver and Justine McNaughton who played up (U16 team) with the U19 women short handed.
The U19 women next play in the Newmarket IEM tournament in early April.